We are proud to offer our durable ATV trailers.
These extremely popular trailers are capable of carrying up to 680 pounds and can be easily towed. It's polyethylene body can withstand the harshest of conditions. The lids and floors are molded to hold the action packer tote securely and prevent items from moving around.
The trailers are great for camping, hunting or yard work. They are available in green or black.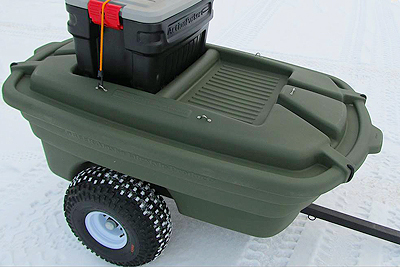 ATV Trailers Product Details
Standard Features:
Made from durable high-density polyethylene.
Can carry up to 680 pounds.
Designed to hold packer boxes
Easy to tow.
Polyethylene ATV Trailers:
* Tire Size – 22 x 11-8
* 247lbs rating per tire
* Not to be used as a flotation device, i.e. boat, raft
* Water Resistant not waterproof
* Lid can hold 50lbs, should be included in 247lbs rating per tire.