Impervious to corrosion and rust and highly resistant to damage from impact and harsh weather elements, polyethylene plastic tanks are renowned for their durability.
At Greer, we've spent years designing each and every one of our tanks to last you a long time under our extreme conditions. Each plastic water tank is tested and certified for safely storing potable water. They are lightweight, durable, and won't rust or crack in our Alaskan weather conditions.
Our polyethylene plastic underground tanks are NSF approved for storing potable drinking water and are BPA free.
Click on the tab below to see available sizes.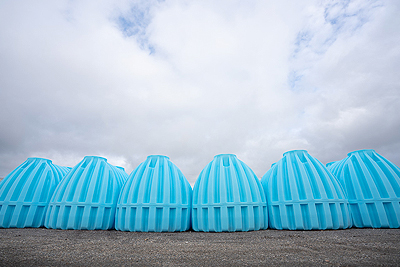 Underground Plastic Water Tanks Product Details
Standard Features:
Approved by the NSF for the storage of potable water.
BPA Free.
All attachments BPA Free.
Can be used for rainwater or well water.
Gray tanks buriable to a depth of 48″
Blue tanks buriable to a depth of 120″
Gray 4′ Bury Polyethylene Plastic Underground Water Tanks:
*48" maximum burial depth
Blue 10′ Bury Polyethylene Plastic Underground Water Tanks:
*120" maximum burial depth