Greer offers a complete package. We can supply and install equipment & accessories to customize tanks for your individual needs.
Whether it's stairs, ladders or catwalks you need for ease of access, or saddles, skids or cradles to support your tank, we can provide it. We also supply and fabricate, custom manways, complete pump systems, fuel guards & spill containment systems, alarm gauges and weather resistant dispensers.
Ladders, Stairs, Platforms, Catwalks:
Internal and external ladders, stairs, platforms and catwalks are designed to comply with strict OSHA guidelines.
Tank Supports:
Greers' tank supports are designed to keep the tank stationary and also to support and elevate the tank to minimize corrosion concerns. Our supports are available in different designs to accommodate specific installation requirements: UL saddles, skids, cradles or a variety of tank stands.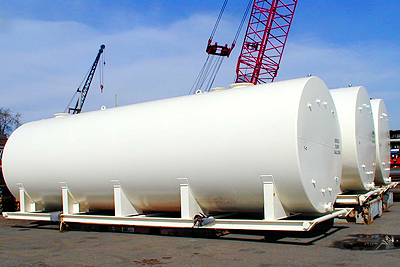 Custom Manways:
Manways provide access to the fuel tank and include a bolted cover and gasket. A variety of designs can be ordered for your specific project.
Complete Pump Systems:
Your pump systems packages can be ordered to your specific needs. These can either be mounted on the fuel tank, on a platform, or shipped loose for installation by others.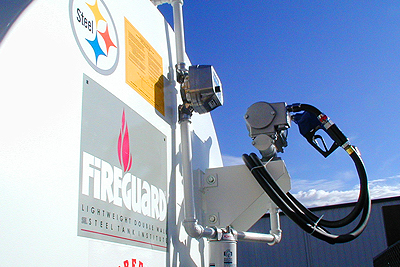 Fuel Guards and Spill Containments:
Our Fuel Guards are powder coated (inside and out) and are available in 5 or 7.5 gallon sizes. The tops are designed so that they may be locked. Spill containments are designed per project spec. and contains 1/2" plunger to return spilled liquids.
Alarm Gauges:
These provide detection for leak and level alarms.